Defining CRM Software and How it Can Benefit your Business
What is CRM? CRM is a customer relationship management strategy that aims to manage relationships with customers or prospective customers, collect all customer or prospective customer data, then record the activities of salespeople in dealing with customers. CRM itself stands for Customer Relationship Management
In direct sales work, interactions can make a big difference when building relationships. But what happens when you work throughout the country or throughout the world? Obviously, making personal relationships more difficult in this situation. But through the miracle of technology, we can minimize the gap and stay involved and responsive to client needs. As our world becomes more globalized, this type of technology-based relationship will become the norm.
The key to success of every salesperson is by understanding of his customer. One of the most reliable tools for sales professionals is Customer Relationship Management (CRM) software. Proper use of CRM applications can make sales very large and actually make managing client accounts much easier.

70 to 90 percent of the decision not to repeat purchases is not about products or prices. But it is caused by several service dimensions
CRM Software Basic Features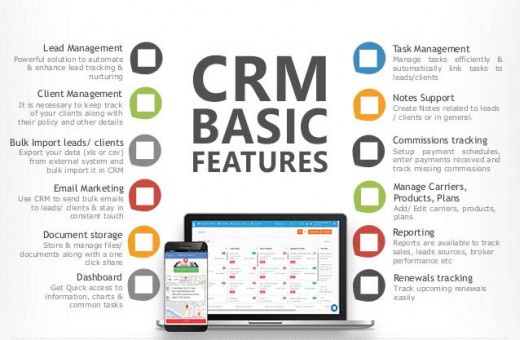 What will CRM do for me?

With CRM, you'll able to higher track your leads, contacts, emails, and quotes. Managing your sales pipeline and save your staff hours of repetitive knowledge entry.
How CRM Software Works?
After we look at the introduction about CRM software let's find out how CRM works keep reading…
Many business owners, online or offline, are confused about why their business is not going well. And what happens instead is the lack of profit from the sales.
The results of sales are often different from expectations. This is because the sales process from the sales and marketing team is quite complicated or long. Moreover, the process involves customer data and history. The conventional sales process requires time for the sales team to process the data. The length of the process that must be passed, resulting in low productivity of the sales team at work. Companies also lose prospects because they feel that reaching the products they need is too complicated and the company's response is too long.
In today's highly competitive environment and with so many products and services to choose from, picky customers and customer loyalty seem to be a part of the past.
When new products are introduced to the market, it takes only a few months before the product or service suddenly becomes a commodity, which in turn, if the commodity does not meet customer expectations, it will be very easy to switch to another company.
Other customers often repeat transactions, some often try to buy new products and services and can even become strong influencers in their markets.
CRM software helps prioritize sales and marketing efforts for this group. This also gives companies a better way to understand the needs and desires of customers to improve the portfolio of products offered to them.
Powerful CRM software to help grow your sales

With CRM, sales teams can eliminate busywork and use modern sales techniques to engage more prospects. With more time and the right insights, they can sell faster and deliver a personalized experience to each customer.
CRM Features
| Features | Capabilities | Performance |
| --- | --- | --- |
| Database Management | Comperhensive Records | Master Data |
| Leads Management | Lead Capture, Lead Generations, Leads Distribution | Pipleline Tracking |
| Mobile CRM | IOS / Android / GPS Check in-out / Tracking / Real Time | Data Synchronization, Offline Mode |
CRM Software Basic Features
Customers Management – Effectively manage your contacts and relationships with a 360° contact management feature from the CRM. Easily import or capture your contacts/leads/organizations, enrich them, track all conversations and activities, and have informed conversations with better insights.
Activity Management – More sales activity means more sales. But increasing sales activity requires a mix of approaches. Robust sales tracking is mandatory for any business to thrive because the sales team affect the success or failure of every organization.
Deals Management – Quickly view, organize, prioritize and follow-up using a simplified pipeline view of your complex sales process to close more deals.
Report Management – Fuel your growth with the proper analytics and visual reporting for each aspect of your small business. Make sure your team is chasing the required goals with the right approach.
Integrations – Modern CRM Softwares comes with essential integrations to save your time and deliver extended functionality. Connect your favorite apps and streamline business processes.
Mobile Apps – Supercharge your productivity while you are working on-the-go with CRM mobile apps on Android or IOS. Get 360° view, manage deals or schedule and perform activities.
Source : Barantum CRM
Work from anywhere and everywhere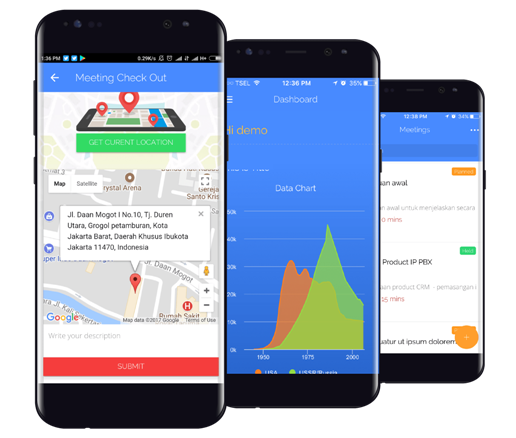 Take your CRM with you wherever you go

Turn your phone into your personal sales assistant with CRM mobile app. Never let a moment get wasted by closing more deals on the move.
Mobile App CRM
Stay in touch with your team, track your team's performance, get status updates and keep selling when you are on the move. iOS and Android mobile sales apps give you everything you need to keep selling, no matter where you go.
Change deal stage – Move your leads and deals up the sales ladder with a tap.
Deep Search – Quickly search records by leads, contacts, accounts, and deals.
Access views – Access your saved custom views even from mobile apps.
Act swiftly – Add deals and notes for contacts on the go.
Stay connected – Modular and interchangeable components between layouts and even demos. Call or send emails to your customers from your mobile.
How CRM Software Benefit Your Business
CRM stands for Customer Relationship Management. And CRM itself is a business strategy for companies that is designed to increase revenue and profitability, reduce costs and increase customer loyalty.
The CRM philosophy itself is simple: Customers priority

When you look at each transaction from the customer's point of view, you can see the gap where your business should provide a better customer experience, which in turn increases loyalty to your company.
CRM is more than just software. When successfully implemented, CRM helps you build better customer relationships, increase company revenue, and create a superior customer experience.
You already know what CRM is now, it's not too late to know that today CRM is more important than ever before in the world of business, because it can help you get new customers and maintain existing ones.
Related Article: 5 Ways To Increase Profits for Automotive Dealers
© 2019 Barantum